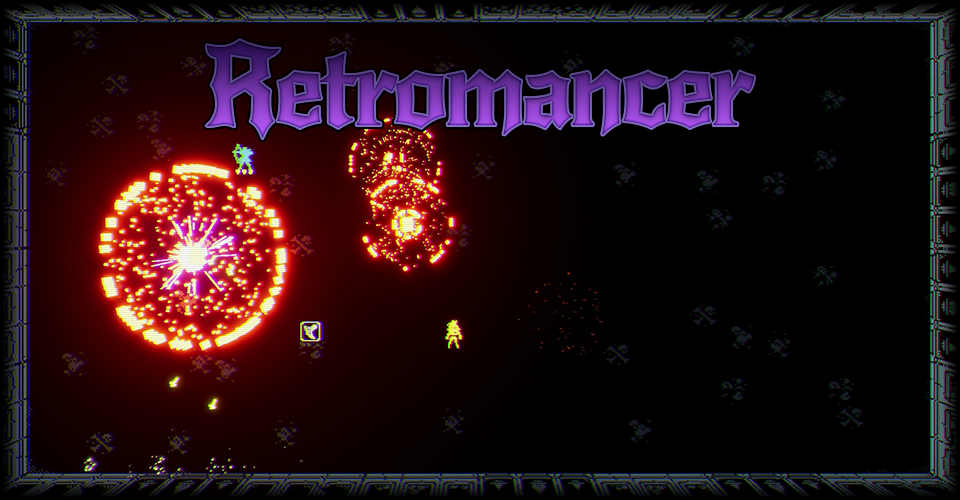 Retromancer
A downloadable game for Windows
What would happen if an insane wizard set up shop on a cursed island and decided to blend the dark arts of necromancy and ... nostalgia?
They'd become a Retromancer. And you'd have to hunt them down; probably in some kind of intense, pixelated, twin stick shooter.
Choose Your Champion
Select one of four different characters to match your play style (or master all of them, to prove your skills):
The barbarian is slow but sturdy, hurling massive axes towards their enemies and charging forward recklessly. There's also a lot of yelling. Deadly yelling.
The mage keeps their distance and blasts foes with arcane bolts that steer themselves to the nearest target. Hang back and shred the air with razor sharp magical shards.
The hunter darts in and out of combat, sniping at monsters with fast-firing and long-ranged arrows then darting out of the way.
The cleric's greatest strength is their faith, which happens to let them fill the air with spheres of holy light that explode and tear apart the creatures around them. When their devotion is especially strong, they might even be blessed with free armor.
No matter which you choose, you'll level up as you fight through the Retromancer's forces, gaining damage bonuses and recovering armor as you go.
Arm Yourself Against the Madness
Take advantage of weapons and power ups to deal more damage, fire faster, dodge enemies, and freeze monsters in their tracks.
Unlock permanent upgrades between games that enhance each character's strengths: mages get even more rapid fire, clerics get more blessings from their gods, hunters become even more deadly at range, and barbarians yell louder than ever before!
Defy Death
A unique death's door mechanic gives you a fighting chance to come back from the brink of death.
Enlist Your Friends
If the Retromancer is too much to tackle alone, you can recruit up to three friends in the local 4-player co-op mode.
When you do have your friends with you, you'll be able to revive each other when you fall in battle, so you'll never be stuck fighting alone.
Survive The Journey
Battle through 30 stages spread across 6 areas on the cursed island of Qor, challenging a vast array of crazed monsters ranging from rats and beetles to sentient trees and extra-dimensional horrors.
Endure a plague of locusts in the haunted woods, overthrow a cultist army in the ruins, surrender your sanity to the creatures of the Void, and kill the Retromancer.
Feature Summary
4 characters to master
Unique death's door and multi-player revival mechanics
Up to 4 player local co-op
Both controller and keyboard & mouse support
Over a dozen weapons and upgrades to unlock
30 levels spread across 6 areas ranging from haunted woods to a cosmic void
3 dozen monster types to conquer
In-game bestiary with monster stats and details
Feats and achievements to earn
Purchase
In order to download this game you must purchase it at or above the minimum price of $2.99 USD. You will get access to the following files:
retromancer-win-64.zip
100 MB
Comments
Log in with itch.io to leave a comment.
Yo, a surprise hit! Very fun game and my favorite class is Barbarian. Thanks for this awesome gem!

Controller menu navigation is a bit troublesome in some parts, easily fixed if you set the B button as the back button, as is standard in most games. The upgrade list, for example, requires you to scroll all the way to the bottom of the list before you can get to the back button, unless you have a mouse in arm's reach.
Edit: Oh, you literally mapped it to the Back button. At least that's a thing.
is there any way to play this with 2 players when one is on the keyboard & mouse and the other is on one gamepad? Whenever I plugged in a single gamepad, it seemed to double these controls for the same character…
The controls went by to quickly for me to catch them all at first, but I just got to experience a dash only challenge mode XD. I did manage to figure out how to play properly though, it's a fun game!
A hidden jewel! The retro aesterics has a really unique look, and the frantic action makes Nuclear Throne feel like a turn-based. Good job!

Also, I found a bug! When you select Continue after you die, and get to the "Choose Your Class", it won't accept any xBox controller input until you click somewhere with your mouse.

Thanks Kasper! I'm glad you're enjoying the game!
Thanks for that bug report too -- thought I had caught all those controller input issues, but they're easy to miss. Not sure what the timeline will be exactly, but I'll try to get that fixed next time there is a Retromancer update!

Good game. There seems to be an issue in the Upgrades section though. When I try to add any points to Speed Boost or Triple Shot instead of increasing the number/bar, the amount of points goes into the negative, like it's counting down from zero for every point I put into it. Then if I come back to the screen again and click a point in, it'll reset back to zero. Then if I try and put points in again, it starts counting into the negative again. Could this be fixed by any chance? I love the game but that is really annoying since I lost like 12k points the first time I went to the Upgrade area because of this. Thanks.
Sorry about that bug! I'll try to get it fixed up ASAP. Glad you're enjoying the game otherwise though!
This is a fantastic game. I love the character archetypes, the settings and enemies, the pace of the gameplay, and the pretty effects when everything is exploding.